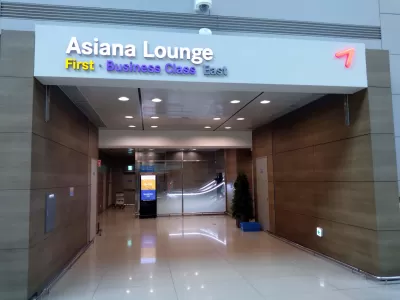 ---
---
A similar thought comes to minds of millions of travelers around the world: is it worth paying for access to airport lounges? Ultimately, the answer will depend on each individual. For some travelers, the answer may be yes, and for others, no.
There are several fairly common reasons why some travelers think airport lounges are worth the money, and several reasons others think they are not.
Are airport lounges worth it? 5 reasons they are worth it, and 5 reasons why they are not
They are worth it: this is a place where you can relax in comfort.
When you're on a long-haul flight and you're feeling a little overwhelmed, comfort is priceless. You are ready to pay any amount just to relax somewhere in comfort. This is especially true if you have had to spend several hours huddled in an uncomfortable plane seat and are about to transfer to another plane where you will be even more uncomfortable.
Seating in the lounge areas is usually much more comfortable than seating in other areas of the terminal. If you want comfort, it might be worth paying to get there.
Travel blog: Relax in comforting seats in Luxembourg airport business lounge
They are not worth it: you already sit for the entire flight and, most likely, before and after you will want to stand.
However, sometimes this place will be awkward to wait. If you are going to be sitting on a plane for several hours, the last thing you want is to sit elsewhere at the airport. If you have a long flight or are waiting for a transfer, it may be worth using the time to stand and stretch your legs.
Many travelers use this time to walk around the airport and warm up. It can really help you feel more comfortable on your next flight, where you have to sit for a long time.
They're worth it: you don't have to pay for food and drinks.
The biggest bonus of airport lounges is, without a doubt, the free food and drinks they offer you. This way you can save a lot of money, since you usually buy food and drinks anyway.
If you hate the food that is offered on the plane and you have a long wait, you will definitely want to eat before getting on the plane again. In this case, it makes sense to pay for your stay in the lounge area to eat while waiting for your flight.
Travel blog: complimentary food, drinks and champagne in Tahiti airport business lounge
They're not worth it: free food may not be enough.
In many cases, free meals are sufficient to justify the cost of an airport lounge. But in some cases, the food offered there is simply not enough. Some travelers say they paid for the lounges only to end up eating free food like potato chips and nuts as a result. And if they needed something more substantial, then they had to leave the hall and buy something else.
This is why it is so important to find out exactly what you can get from your stay in the lounge area. A quality food buffet or a bag of potato chips?
They are worth it: sometimes the wait can be very long.
The longer you wait, the more rewarding the airport lounge seems to be. Even if you want to stretch your legs and buy other food, you will want to get access to the lounge area if the flight will take a long time.
Sometimes waiting for a transfer at the airport can last up to 12 hours or more. That is, you need to wait a long time in the terminal! Perhaps some of the time ahead of you will want to sleep a little or relax in comfort, in which case the lounge area is worth the money.
Travel blog: waiting half a day in Athens airport business lounge
They are not worth it: sometimes the wait does not last long.
On the other hand, waiting times at the airport are often very short. If you're only waiting an hour or less, there isn't much point in paying for the lounge area. During this time, you will probably want to take a walk to stretch your legs. Even if you want to spend this time sitting, it isn't worth the extra money if all you get is a more comfortable chair for a short time.
Consider how long you will have to wait before deciding whether or not to pay to access the airport lounge. More often than not, it's not worth it.
They are worth their money: there may be showers.
A big plus of the lounge areas is that many of them have showers. This means you can really freshen up before your next flight, which can make a big difference to your well-being.
If you've just got off a long flight and are about to have another one, then chances are, more than anything, you'll want to take a shower. In this sense, paying for access to the lounge area, where there is a shower, pays off.
Travel blog: taking a shower in Frankfurt airport senator business lounge
They're not worth it: some airports also have showers.
Before deciding on access to the lounge, check if there are showers at the airport. You should also check if this option is available to any average passenger. Sometimes you will find that some of the amenities offered in the lounge area, such as showers, are available at the airport free of charge.
Even if the shower costs some money, it is still less than what you pay for the lounge area. This is why it is so important to find out everything in advance!
Well worth it: free WI-FI.
If there's one thing people need the most today, it's free Wi-Fi. The reality is that most of us are simply glued to our gadgets, so Wi-Fi is never superfluous. Most people love to chat with their loved ones while waiting to board a flight, and Wi-Fi just makes that communication easier.
Since so many people need Wi-Fi, having to pay for it can be a tragedy. Therefore, the free Wi-Fi available in the airport lounge area is well worth the price to pay to access the area. However, make sure the airport has free wi-fi. If there is, then perhaps you do not need to pay extra for access to the lounge area.
Travel blog: using free WiFi in Lisbon airport business lounge
They're not worth it: many airport waiting areas are now comfortable enough.
It is true that the furniture in any standard airport lounge is more comfortable than the average terminal lounge seating. But as more and more airports go through renovations and renovations, the situation is slowly changing. Nowadays, ordinary chairs are quite comfortable, even if the chairs in the lounge area are even more comfortable.
It all comes down to how comfortable you want your waiting time and how long you have to wait. If you can be satisfied with the standard conditions at the airport while waiting for your next flight, you may not need to pay for the lounge area.
Five honest ways to visit an airport lounge without overpaying
If your work or lifestyle is associated with frequent flights, then you have probably come across a cancellation or delay of a flight, a long connection and similar circumstances, when you want to make the waiting as comfortable as possible.
Method 1. Buy a ticket for first or business class.
In this case, you will automatically receive the right to be in the airport business lounge or your company. The method is the most expensive, simple and therefore not interesting. Although the element of luck cannot be ruled out. If at check-in they tell you with an apology that there is no economy seat on your ticket (change of the flight layout, replacement of the aircraft, and finally, just resale), as a way out of the situation, you will be offered the opportunity to fly to your destination on the next flight or will be given a place in business -class. In the latter case (ask and insist politely), you will most likely be given a free invitation along with your boarding pass allowing you to enter the lounge.
Method 2. Become a preferred passenger.
If you often fly with a certain airline or several that are part of one of the international alliances of air carriers, then you should get an appropriate plastic card that entitles you to privileges, including entry to business lounges. If you do fly a lot or use a co-branded credit card, you may have enough miles in your bonus account to access the airport lounge for free.
Method 3. Get a correct bank card.
Nowadays, most citizens have a bank card. At least the one on which the salary is charged. If you are the lucky owner of one of the World Elite MasterCard or World MasterCard Black Edition premium cards, then you are promised access to the business lounges of MasterCard. They are available at the airports of Prague, Bucharest, Vienna, Budapest and Kiev. In December last year, the first MasterCard business lounge in Russia opened at Sheremetyevo Airport, in the departure hall of Terminal E.
Method 4. Participate in the Priority Pass program.
Perhaps the most optimal solution for today. With a Priority Pass card in hand, you get access to more than a thousand business lounges at airports in 130 countries around the world. There are two ways to become a member of the program and receive a card in your hands. The first is to register on the program website, choose one of the three proposed participation plans and pay an annual fee (99, 299, or 399 €). If you fly very often, then it makes sense to choose the most expensive unlimited option. In this case, you will be able to use without restrictions the business lounges (their list is also on the website) at airports and see your friends or relatives who fly on the same flight with you for a special cost of 24 € per person. For comparison: buying a ticket to the business lounge at the counter at Moscow airports costs from $ 75 per person. The benefits are clear. Many tourists, in their online reviews of the experience of using the Priority Pass card, note that some business lounges abroad sometimes allow members of this program to host an entire family or one guest for free. By the way, the status of their flight is not important for Priority Pass members. It can be regular, charter or low-cost. The attitude of the administration of business halls to everyone is equally friendly. The second option is the possibility of obtaining a Priority Pass card for free. Some large banks give membership in the Priority Pass program as a bonus, if the size of your account or purchasing activity allows you to have bank accounts of a non-standard level: Gold, Platinum, Infinity, Selective.
Method 5. Find the right travel companion.
If your travel companion has a Priority Pass card in his hands, then you can also go to the business lounge inexpensively or even free of charge.
The business lounge is a closed privileged lounge at the airport. It can be located both in the international sector and in the terminal of local departures, both in the clean zone, and in the zone of additional passport control. In most cases, the time limit is 3-4 hours. Then you need to renew if necessary, for money or for free. Depends on the specific room. The range of services (paid and free) also depends on the location. Usually you have a light snack with snacks and salads, doshiraki, soft drinks and beer, the latest newspapers, TV, Wi-Fi, toilet (sometimes shower + towel), smoking room, children's room. You will be warned in time about the start of boarding your flight, and if the boarding is not by a boarding bridge, then you will be delivered to the plane by a separate minibus. Some good business lounges (in the USA, UAE, Singapore, Hong Kong, etc.) have spa salons, massage chairs, and offer a good selection of hot dishes and high-quality alcohol.
Business lounges pros and cons: should you get an access?
this is a place where you can relax in comfort
you don't have to pay for food and drinks
sometimes the wait can be very long
there may be showers
free WI-FI
so you sit during the entire flight and, most likely, before and after it you will want to stand
free food may not be enough
sometimes the wait doesn't last long
some airports also have showers
many airport waiting areas are now comfortable enough
Frequently Asked Questions
Airport lounge worth it or why do you need it?

It happens that before traveling you have to spend several hours or even a whole night at the airport. This is far from being about comfort, as it is hard seats or their absence, noisy passengers, general fuss and other irritants that will not let you relax. Therefore, there are Airport lounge for silence, all kinds of amenities and relaxation.
---
---
---