---
---
Providing affordable and interesting travel packages, Booking.com is a travel-related website, based in Netherlands, which has matured from a small group of travel enthusiasts to one of the largest travel e-commerce companies in the world. With over 15,000 employees, this company has its office in almost 70 different countries around the globe.
Booking.com website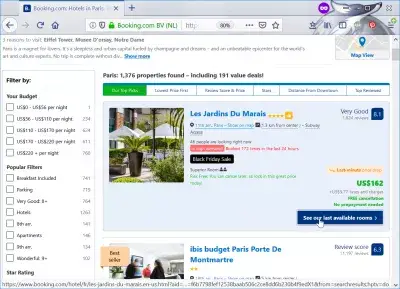 Assuring travelers with an enthralling travel experience worldwide, Booking.com provides a comprehensive range of travel destinations along with comfortable lodging in hotels, apartments, vacation homes, family-run B&Bs, 5-star luxury resorts, tree houses and even igloos. As fascinating as it sounds, this company has tied up with some of the best hotels and airline companies to make sure that travelers have a safe, convenient and hassle-free trip.
Another incredible feature of this traveling website is its easy accessibility to the travelers via its website and mobile app. Available in more than 40 native languages, Booking.com is equipped with almost 1,660,814 properties and ensuring 127,818 destinations in 228 countries and territories worldwide. Their 24/7 customer support for every kind of travel assistance is yet another brownie point for the company.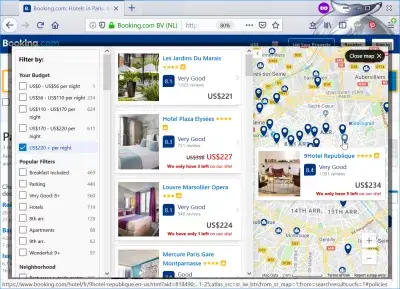 So, be it a business trip or a fun outing, Booking.com makes sure that every traveler can accommodate at suitable places without incurring too much of expense. Owing to the years of expertise in traveling industry, Booking.com has always satisfied the customers with the help of customer care executives who are always present to assist their precious customers. From providing accommodation in luxuriously built hotels to providing cars at rent to airport cabs services, the executives of this company have always offered the best to their customers and thus let their trust become stronger on them as well at the goodwill of the company. In the services of providing perfect accommodation facilities, ranging from villas to serviced apartments to cottages, Booking.com removes all the pertinent worries of the tourists arriving at new destination.
---
The company's strength are its employees who work day and night in providing comfort to their gem like customers. Apart from being the creator of such a big website which garners more than a million number of views, it also helps tourists to reserve their restaurant seats in an exotically different destination. With many more touring destinations in its coverage, since the growth of the company has proliferated at higher rate this decade. By reserving more than (1,550,000) room nights stays at all of its online portals, this traveling agency have left its competitors far behind in the business race. Associating more number of employees at the end of each month has transformed the image of the company from being a local firm to a multi-giant level traveling company.
Guiding every tourist to a right destination, this traveling company has formed an image like that of a real spirited tourist guide whose services renders the right needs of tourists and make them feel safe even at new destination in any part of the world. Spread in the entire part of Europe, this Amsterdam based company has made its landmark in Asian and gulf countries. Holding the maximum amount of employers in marketing department to human resource department, it has successfully come up on its own terms and conditions of satisfying the customers without any haste or delay.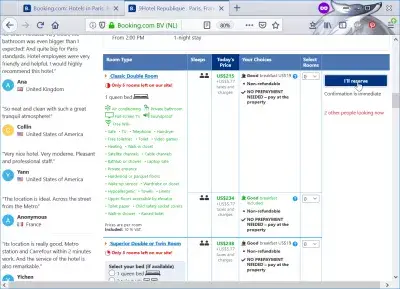 Booking.com website
---
Booking.com review
One of the main website on Internet to book hotels – however, not the best in terms of prices and choice.
Booking.com review Pros
Large choice
Security
Search option diversity
Booking.com review Cons
Prices are not the best on Internet
Some listings are scam
Search shows offers not available
About the author - Travel comparator
We are travel passionate, with hundreds of flights behind us on all continents.

---
---
---
---
Comments (0)
Leave a comment