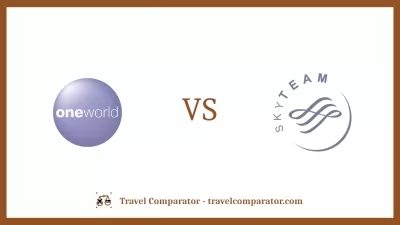 ---
---
The Airline Alliance is an agreement between airlines that allows them to expand their capabilities and offer profitable programs to customers on code-share flights. What benefits and bonus programs do alliances offer for passengers today? It:
availability of more destinations;
convenient codeshare flights;
lower prices for flights;
the ability to earn miles faster;
a large selection of business lounges at airports;
reduction of time due to transfer optimization;
round-the-world fares that make it possible to fly inexpensively.
Today there are SkyTeam, OneWorld and Star Alliance - three alliances with a large roster of companies. Star Alliance includes only foreign airlines, and the list of SkyTeam and OneWorld includes carriers popular among Russians, so many travelers and frequent flyers are interested in the question: which alliance to choose in order to use additional services and bonuses? Let's consider the nuances of the choice in more detail.
This alliance brought together several major airlines and about 30 subsidiary carriers. These are about 1000 destinations, more than 14000 flights and more than 1000 airports that receive flights of the alliance companies. The popular S7 is part of the alliance among Russian companies. Passengers of OneWorld partners have the opportunity to earn miles on flights, buy bonus tickets for flights and enjoy other bonuses and privileges offered within the alliance. The bonus program has several levels (Ruby, Sapphire, Emerald), on the first of which passengers receive priority check-in, the ability to carry larger baggage, choice of a seat on the plane immediately after purchasing tickets and an additional 25% miles from your fare. Sapphire gives access to the lounge (+1 person), Emerald - an additional piece of luggage, first class check-in counter.
More information on OneWorld airlines
Each airline also has its own program for customers, but the miles accumulated on the flights of one of them can be spent on the services of another. To move to a higher level of the program, you need to make 20 flights or accumulate 20,000 miles. Main flight regions: Europe, Asia, America and the Middle East. In terms of fleet size and number of destinations, OneWorld is almost on par with SkyTeam.
Access OneWorld airport lounges with a Revolut account
SkyTeam - can make a big difference in your travels. It is the second largest air carrier alliance in the world after Star Alliance, uniting 19 of the world's leading airlines under its wing.
SkyTeam has different tariff plans, where every traveler can find an option for their budget. For example, the SkyTeam Elite plus tariff provides a very wide range of services where everyone can feel like a star.
The SkyTeam Alliance invites its passengers to expand the route map and increase its profitability. Today SkyTeam unites: Aeroflot, Air Europa, Air France, China Airlines, Delta Air Lines (USA), Garuda Indonesia and other companies. Participants are ready to offer customers a large number of flights, as well as a range of services and privileges. The alliance has more than 170 destination countries and approximately 600 million passengers transported per year.
More information on SkyTeam airlines
SkyTeam offers two premium tiers: SkyTeam Elite and SkyTeam Elite Plus. From the first level, the client receives an additional piece of baggage, priority at check-in and seat selection for free with priority boarding. Elite Plus gives you access to the lounge and seats on already sold-out flights. To reach the silver level in the program and get additional opportunities, you need to make 25 flights in a year or gain 25 thousand miles. This includes flights in economy class, and flights with a transfer count as two, so even a novice traveler can get this level.
Upon reaching the second level, passengers of Aeroflot, a member of the SkyTeam alliance, can check-in for flights at priority business desks, instead of standing in line for half an hour. In addition, they will receive free additional  baggage   space and + 25% miles from the ticket fare.
Access SkyTeam airport lounges with PriorityPass service
SkyTeam vs. OneWorld - Which Alliance Should You Choose?
To make the right choice, you need to answer a few questions:
How many flights per year do you fly and how many miles do you earn for those flights?
Which airports are more convenient for you to fly from?
Are ticket prices very important to you?
Do you take a lot of luggage with you?
What kind of bonuses do you want to receive?
If you manage to accumulate less than 20,000 miles a year, then give preference to those programs where miles do not expire. Look at the list of companies belonging to one or another alliance and select those that fly to destinations of interest to you.
It is easier to get the first loyalty program status from OneWorld than from SkyTeam. More bonuses and better use of the accumulated miles are also provided by the OneWorld alliance. And SkyTeam definitely wins in  baggage   transportation, since passengers are provided with additional space for  baggage   already from the first level, while OneWorld has only from the second. If your luggage is important to travel or you are carrying goods, choose SkyTeam. OneWorld wins in terms of the cost of air tickets and the number of promotions for customers, since it is more profitable to fly with an S7 than with Aeroflot if you do not have a lot of luggage.
---
---
---