---
---
You hope you don't have to use insurance, but you'd better have it in case you need it. Not only is it a necessity to protect your finances, but insurance is also legally required in the United States.
If you're traveling internationally and planning to rent a car in the U.S., you're going to need car insurance. You may be wondering if it will even be a possibility to purchase insurance.
Will the rental agency recognize your foreign driver's license? Do you have any options for where to purchase insurance? What if  you do not purchase insurance   at all?
There are many questions, but don't get overwhelmed. The process is quite simple, and when you know what to look for, you'll be able to get the right coverage for your situation.
What is auto insurance?
Auto insurance is a type of insurance protection that is designed to protect the property interests of the insured associated with the costs of restoring a vehicle after an accident, breakdown or buying a new car after theft or theft, compensation for damage caused to third parties during the operation of the car.
If you choose the cheapest option for your car rental booking. Then there it all depends on whether you rent a van or a car. For a van it is preferable and cheaper to go through a car rental comparator, while for a car it is advisable to book directly with the rental company.
What are my car insurance options?
First, let's talk about what's required. To drive in the U.S., you need liability insurance. This type of policy covers the damage that you do to another party.
For example, if you rear-end another vehicle that is stopped at a traffic light, the crash is your fault, and liability insurance will pay for the damage to the other party's vehicle and for their bodily injuries up to the limits in your policy.
Each of the states in the U.S. has its own limits of required liability, but not a single state's required minimum limit is high enough for your adequate financial protection.
To be safe, you need a liability policy of 100/300/100. Those numbers represent the following:
$100K bodily injury per person
$300K bodily injury total per accident for multiple persons
$100K physical damage
Depending on what state you're renting the vehicle in, you may also be required to purchase personal injury protection which will cover your own injuries.
You may also need to purchase uninsured/underinsured motorist coverage which will cover your damages if an uninsured/underinsured individual causes an accident with you.
Liability coverage is a necessity. It's legally required, therefore you must purchase it. If you don't purchase it, here's what you can expect:
You're financially responsible for the damage you cause to another individual and vehicle.
You'll be cited and given a ticket for driving without insurance.
There are other coverage types that are not required but are a wise purchase when you're renting a car. Rental cars are newer vehicles and because of that, they're worth more than most people could pay to replace.
Collision coverage will pay for the damage to your rental car if you cause an accident, while comprehensive coverage will cover damage to your rental vehicle from hitting an animal, like a deer, and from vandalism, theft, and acts of nature.
The limits of collision and comprehensive coverages will be the value of the vehicle. You don't have a choice to purchase extra coverage as you do with liability, but you also don't need to.
Will the rental agency have good coverage I can buy?
Yes, they will offer the insurance you need and more. You are not the first person from a different country that they have dealt with.
If you have a license from where you live, the major rental agencies will recognize that and you will be able to rent a car and get insurance to go along with it.
You'll typically have the option to purchase:
Liability Coverage – for the damage you do to another party
Loss Damage Waiver – for any damage done to your rental vehicle
Personal Effects Coverage – for your belongings that are damaged in a rental car
Personal Accident Coverage – for your own party's injuries
If you have already purchased travel medical insurance, the personal accident coverage offered by the rental company may be unnecessary.
Comparing rental car prices using  a site that shows several choices   at once is a good way to get started finding the cheapest place to rent from, but don't forget to also compare their insurance costs.
Since you'll most likely need to purchase insurance through the rental agency, the cost of adding insurance is just as important as the cost of renting the vehicle.
Is the rental agency car insurance enough?
Yes, the rental agency insurance can be enough if you purchase the right level of coverage for your needs.
Saving money is a worthy goal for any traveler. You can  compare rates for flights   to find the best price. If you're focused on saving money, you will want to consider the cost of a high level of car insurance versus saving money with lower coverage.
The more coverage you purchase, the more your rental policy will cost, so make sure you're not doubling up on coverage. If you have travel medical coverage, you probably don't need to purchase personal accident coverage.
Sometimes the peace of mind that comes with knowing you won't have any liability for damage to other cars and your rental car is worth buying the premium insurance coverage, especially if your trip is short.
The longer your trip, the more you'll need to evaluate the cost versus the benefit of the level of insurance you purchase.
Do credit cards provide an alternative rental coverage?
Some credit cards do offer international rental car coverage. There are a lot of credit cards, and the perks and terms of each vary, so the only way to know what your card in question offers is to go online and look it up.
Some credit cards have coverage included, and you just need to use that card to rent the vehicle and it automatically covers you.
Other cards give you the option of purchasing a rental car coverage plan. Even when you have to purchase it, it is typically cheaper than what the rental agency will offer.
You don't want to risk not being properly covered, so if you have specific questions you can call your credit card customer service for clarification.
Remember the types of auto insurance that were mentioned earlier:
Liability pays for damage to others
Collision and comprehensive ("full coverage") pay for damage to the car you're renting
Final Tips for Renting a Car in the U.S.
If you're flying and staying in a big city, you may be able to forego a rental car and rental insurance altogether by taking public transportation. However, public transportation is not a viable option outside of major U.S. cities.
If you are staying for an extended period of time, you may be required to get a state driver's license, even if you're not planning to stay permanently.
Getting a state license will open up your options for insurance because it will make you eligible for car insurance from a plethora of insurance agencies. You'll likely find insurance for much cheaper than what the car rental agency offers when you're able to compare options.
With larger rental agencies, the process for buying insurance is easy, and you shouldn't anticipate any problems.
Decide what type of insurance you need before you show up to rent the car so that you won't be wooed by the agent into purchasing more coverage than you need.
You'll enjoy your trip more fully knowing that you are protected with the best auto insurance for your situation.
When you're looking over what a credit card covers, make sure you understand if the coverage includes both liability and full coverage or if it's limited to just one type of coverage.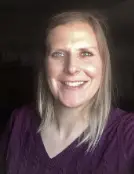 Melanie Musson, CarInsuranceComparison.com
Melanie Musson is a car insurance expert and writer for CarInsuranceComparison.com. She is the fourth generation in her family to work in the insurance industry. She grew up with insurance talk as part of her everyday conversation and has studied to gain an in-depth knowledge of state-specific car insurance laws and dynamics as well as a broad understanding of how insurance fits into every person's life, from budgets to coverage levels. 
---
---
---