An overview of the WISE and Revolut platform. List of features and disadvantages. Comparison of services - which one is better for foreign travel spending.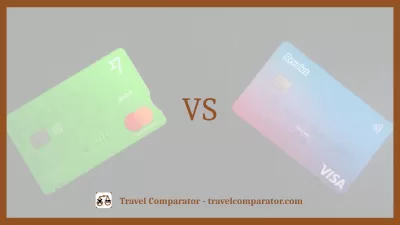 ---
---
Which service to choose, is it better WISE or Revolut?
To figure out which service for transferring money abroad is the best, it is important to consider the situation from different perspectives, as well as the capabilities of each platform individually. A website for transferring money abroad, a great way to pay for travel, hotels, trips if you don't have local debit cards. But they can be used for other purposes as well, for example, for transfers by labor emigrants. Let's consider the services for foreign translation WISE and Revolut separately, define their advantages and disadvantages over each other.
Unlike other financial platforms, the Revolut service is a universal solution that combines the possibilities of storing, transferring, investing and spending money. The site helps to make purchases abroad and make money transfers without huge commissions and various fees. A virtual card that can be issued through Revolut has a number of advantages and is easy to use around the world.
As with other virtual debit cards, this platform has features:
The service supports work with 130 monetary currencies;
Due to the wide range of currencies, it is possible to carry out exchange operations in a convenient format;
The ability to make money transactions in most countries of the world allows you to travel without borders;
When exchanging currencies, the platform uses the real exchange rate;
Using the system, the user can purchase the largest cryptocurrencies - Litecoin, Etherium, Bitcoin;
There are tools for the accumulation and preservation of funds;
Cost control through the functionality of the site;
Connection of scheduled payments and connection of deferred debiting of funds.
In order to start using a virtual account of this service, you need to register on the Revolut platform. Additional tools, built-in functions, digital banking without borders - all this is the brainchild of Vladislav Yatsenko and Nikolai Storonsky.
Disadvantages of Revolut
This is not a fully licensed bank, so the amount of compensation in case of force majeure will be less than that of licensed platforms;
On weekends, exchange rates can fluctuate;
The amount of cash withdrawal without commission is limited;
The service does not have physically existing branches, therefore, for large operations, it is not possible to carry out a personal meeting with bank representatives in the office;
Formerly known as Transferwise, WISE is a convenient platform for international transfers, payments, currency exchange. The WISE site has a number of advantages over its counterparts. The main features of the service are as follows:
No additional fees are charged for using a virtual card;
The WISE mobile application is easy to use, functional, easily customizable, allows you to contact support at any time;
The multicurrency virtual account allows you to store and exchange 30 different international currencies;
High level of security of a multi-currency electronic account to protect against fraud
The algorithm for transferring funds is quite simple. In order to make a transfer, you will need to transfer money from your card to your Wise account. Then the service exchanges the currency at the average market rate and connects it with transfers going in the opposite direction. After that, the money goes to the recipient's account. This service has its own characteristics in front of revolut abroad.
This platform can be used for small and medium-sized monetary transactions, but it should be borne in mind that the size of the commission in this service depends on the amount of the transfer. It is not profitable to make large money transfers through WISE, but it is convenient to work with small and medium volumes through this platform.
Disadvantages of WISE
Not suitable for transferring large amounts of money;
Mandatory registration to work with the service and verification by two documents;
Unavailability of Mastercard in the USA;
You need an SSN to send money;
The larger the transfer amount, the higher the commission;
The service operates in 60 countries, supports a total of 100 currencies, which does not cover the whole world;
When a certain level of money turnover is reached, the system will require additional verification to continue working - if the user refuses to update the data to confirm his identity, the service can deactivate the account.
Which is better, WISE or Revolut?
Both services require registration to start working with currencies and a virtual account. Simple setup and quick confirmation of data, allows you to start working with services a few hours after registration. Due to the small amount of documentation for verification, the services do not have the opportunity to obtain full-fledged licenses, but thanks to this feature, they are popular among ordinary users.
If you need cash while traveling abroad, then it is better to choose to use the WISE service, and to plan your budget in advance by changing money when the rate is the most favorable, to avoid cash withdrawal fees abroad. At the same time, the Revolut platform offers a free plastic card for withdrawing cash from ATMs around the world.
Plan your EUR to PLN conversions in advance before traveling to Poland
If you need to make regular transfers from abroad, it would be right to choose the WISE service, which offers low commissions when working with small and medium amounts of money. Revolut is no less convenient for transfers, but offers a higher commission.
If you need a service to exchange funds at a favorable bank rate, then the Revolut platform will be more convenient, on which you can work with more than 150 currencies. WISE offers fewer currencies available.
In the WISE vs. Revolut battle, it is difficult to determine the winner, as both platforms are easy to use and have both advantages and disadvantages. With a general overview of the features of the two services, the advantage of Revolut is felt, but WISE has more authority and popularity, which should be taken into account.
What's better when traveling
In different countries of the world, different monetary currencies are used, and in some states it is even possible to pay with cryptocurrency. If you have an international debit card that can be used to pay around the world, then WISE will be convenient to use. If the tourist does not have an international plastic card or he needs constant cash, then Revolut will help. Both platforms provide the user with their own debit card.
---
---
---